Got a pawesome pawty planned? With this cake for dogs you'll score for sure! Bake the doggo cake yourself for a Birthday or Gotcha Day, we're pretty sure your pawfriend will love it!
Today I 'm sharing my recipe for a Peanut Butter & Banana Dog Cake with you! Some grrrrreat goodness for your four-legged friend for sure!
This cake is perfect as a doggy birthday cake or as a delicious treat on the weekend, and so simple to make.

Prep Time: 15 minutes
Baking Time: 45-60 minutes per layer
Ingredients (makes 1 cake layer, double for 2 layers):
For the cake batter:
100g peanut butter (without xylitol, you can use our peanut butter for dogs)
250g gluten free flour
2 tbsp olive oil
3 tbsp honey
1 tsp vanilla extract
1 mashed banana
1 tsp baking powder
200ml semi-skimmed milk
For the frosting:
250g cream cheese (such as Philadelphia)
2 tbsp yoghurt
2 tbsp peanut butter (without xylitol)
optional: natural coloring like beet juice
So how do you start? Like I said, they are really easy to make and you will probably already have all the ingredients at home. Please do take into count your dog's needs and his/her size.
E.g. when your dog is sensitive to cream cheese, replace the topping by banana or vice versa. When you have a smaller dog, don't feed them the whole cake at a time but cut it into smaller chunks or make pupcakes.
Step 1:
Oil a baking mold (+/- 17cm) with some olive oil and heat the oven to fan 170°C.
Step 2:
Mix the wet ingredients (peanut butter, oil, mashed banana, milk honey and vanilla) together in a small bowl.
Step 3: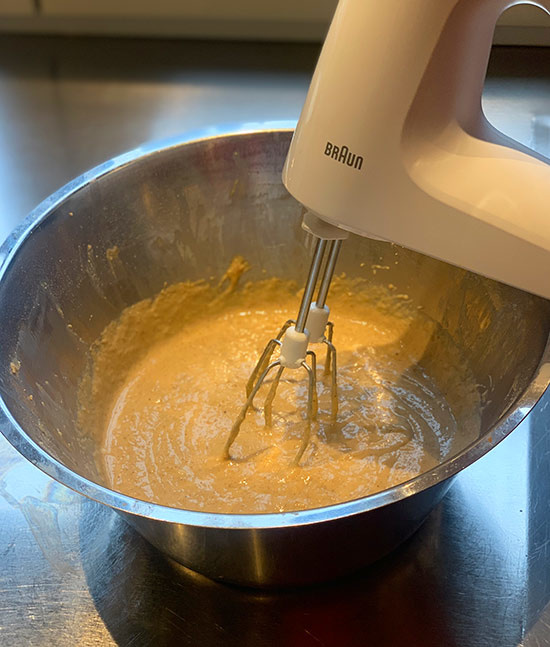 Put the dry ingredients (gluten-free flour and baking powder) into a large bowl and slowly add the wet ingredients to the mixture while whisking with an electric hand mixer. Then add the milk and whisk again.
If the dough is too sticky add some more milk to it.

Step 4:

Pour the mixture into the mold and put it in the oven for +/- 45-60 minutes.            

Step 5: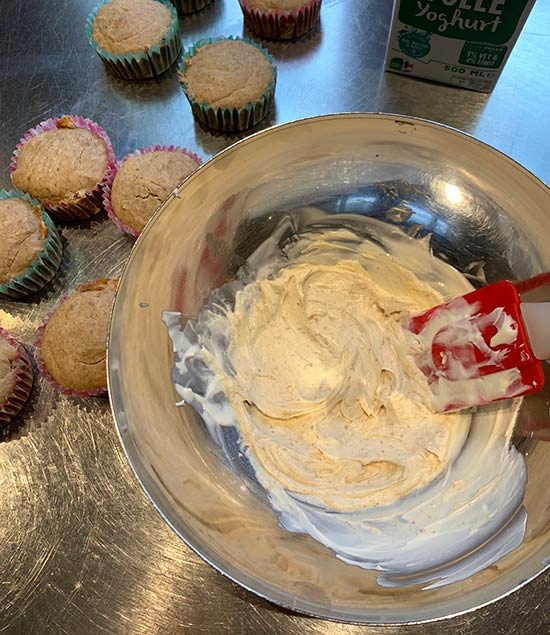 After the cake has cooled down you can start to make your frosting.
Put the cream cheese, yoghurt and peanut butter in a bowl and mix them together with a spatula. Spread the mixture onto the cake with a knife or use a piping bag.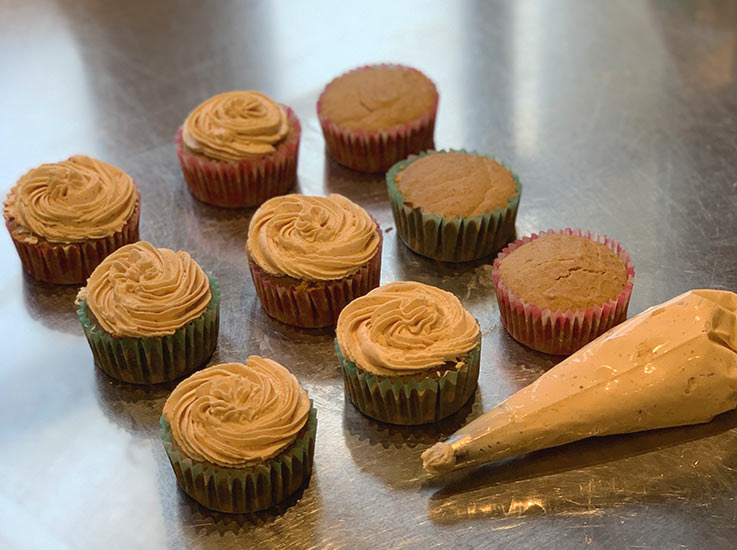 Step 6:

Top with some cookies!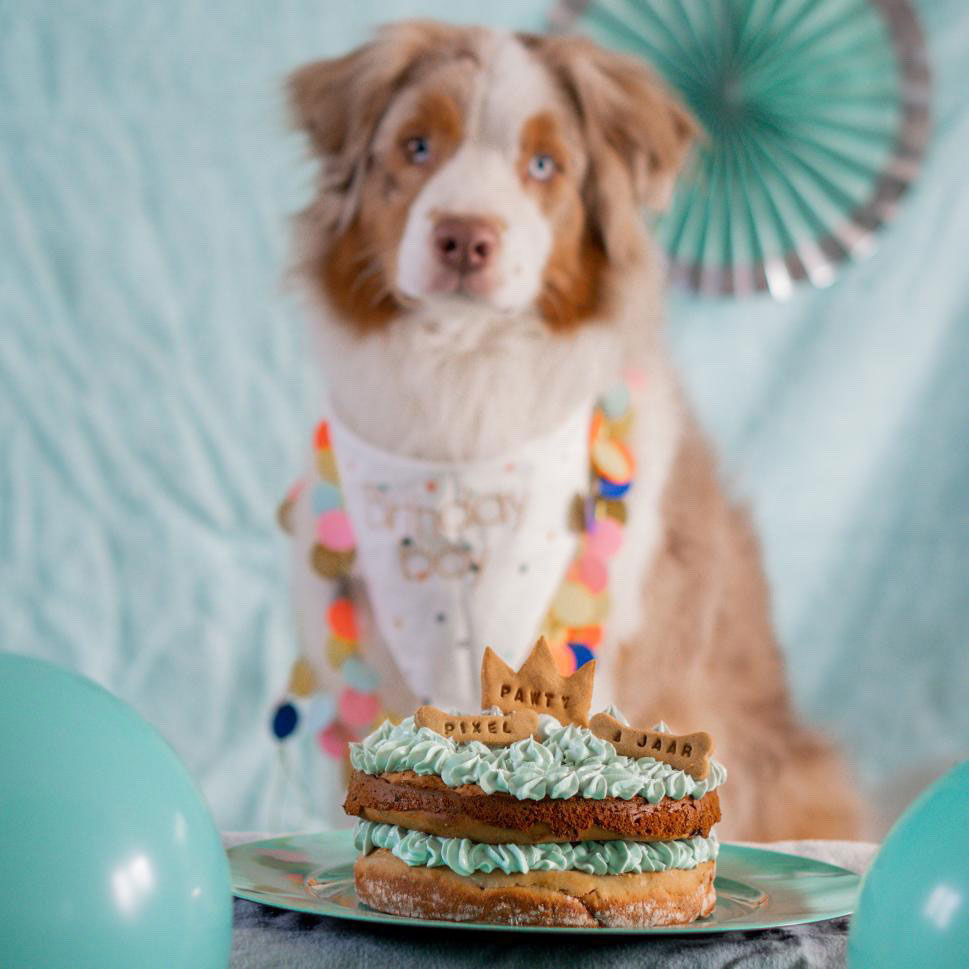 Store in the refrigerator for up to 2 days. If you leave out the cream cheese topping, the pupcakes will keep longer and even outside of the fridge.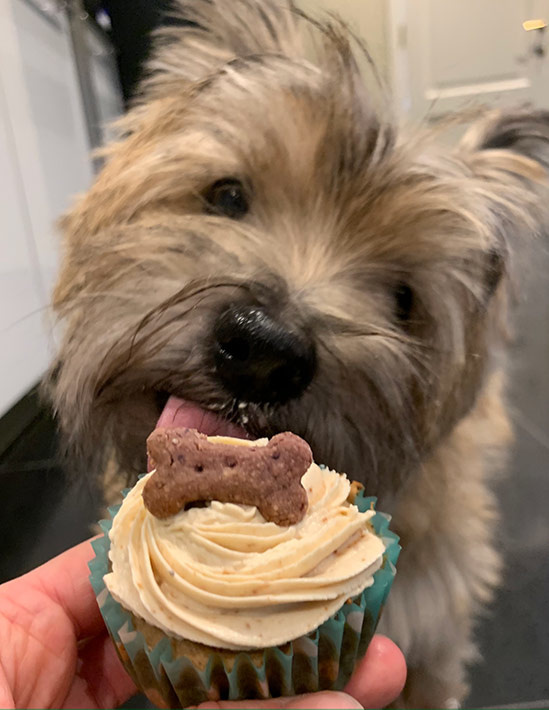 I'm sure your pupper will love them. Don't forget to share on your social media and tag us
@FritzAndHammys
 !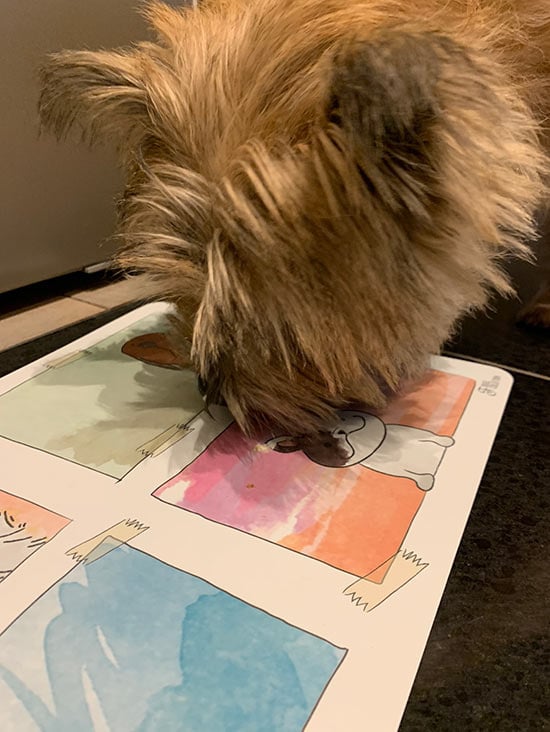 PS: If you are wondering on how and where to feed this sticky pupcake to your dog: our placemats are super useful.

Photo Credits: Dorothea Gielen en Sabrina Sutens